Ballbusting/castration stories
Ballbusting/castration stories
ART
Graphic stories
   
   
General images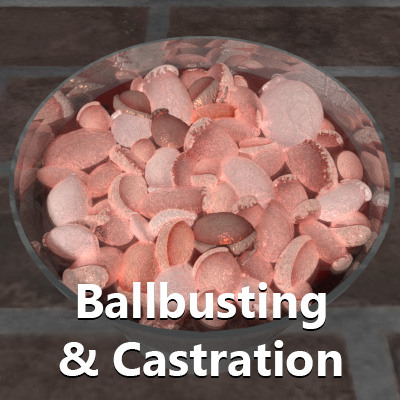 STORIES
40 seconds – Five young criminals lose their manhood.
Animal control – A couple of workmates risk their balls to capture an alien creature.
Breeders – Two young men compete in a competition with serious consequences.
Christmas tree – Li'l Kim has fun with the Christmas tree decorations
Commune punishment – A naughty teen is spanked, humbled and tormented
Dusting for a busting – I teach my college room mate a lesson when I walk in on him jacking off.
Eagle's claw – A Roman slave trader and his son pays a high price for his dishonesty.
Flicked – A teacher has a spiteful way of punishing his students
Foreign Justice – A young man living in a foreign country is brutally punished by an extremist Islamic government that wishes to send a message to American invaders.
Fucking table – The missing manual castration version – A young man tests a device that will give him the best and worst day of his life.
Gone – A  young man performs a medical procedure on himself
Highs and lows – A bullied student fights to protect his nuts
Hugo's pets – parts 1 and 2 – Timur ponders the day he became one of vampire Hugo's pets.
Humbled – A young man finds out what it's like to wear a humbler
Information – A young man wishes he knew more than he does.
Initiation – 14 young men undergo a sexually humiliating and ultimately painful initiation in order to get ahead.
Jeopardy – A college boy experiments with solo ball-busting.
Jewels – A young man tries to enlist help for an escape attempt but discovers something unsettling.
Pig pen – A young man finds a weekend of playful ball busting takes a dark turn.
Processing – A team of lacrosse players is kidnapped and subjected to erotic torment
Restrained – Two young men are captured by the Eastwood Alliance. – see the images here and here
Roman game – A sadistic Roman forces two brothers to play a game to keep their balls.
Saving the village Part 1 Part 2 Part 3 – A young African man pays with his balls price in order to save his village from destruction.
Sore winner part 1 part 2 – A sore loser gets even.
Spiked – An enemy of Rome loses his balls.
Tattoo bb version – A young man has an alien encounter.
The fourth infantryman – Four soldiers are captured by the VC and their balls are punished.
The sterilisation bureau – A Britain of the future takes drastic action to deal with its overpopulation problem.
The tree hangers – Native American Indians find a uniquely vicious way of tormenting invaders who settle on their lands.
Unit 62 – A squad of soldiers on an alien planet fight an unexpected adversary to save their balls.
Wombles – A young man has to prove his loyalty to join a gang.
X-Tinction – End of the line – A young man fights to save his balls and gets fucked by the boy of his dreams. Proper fucked.
Nathan's stories
If you want to contact Nathan directly, you can email him directly at nathan9001@yahoo.com
Gangs, balls and empty sacks – The leaders of a rival gang pay a heavy price
Fucking table 5 – A young security guard accidentally nuts himself
The Crucifixion – Two ancient rapists meet a painful end  – Crucifixion and castration – A historical context
---