More 3D prints
Patrons can access downloadable PDFs of most stories, 4K versions of many images, and content that I chose not to publish publicly here.
Please consider donating to my Patreon in order to receive access. Click here to find out more.
Hi guys, after returning the printer twice before and after the holidays, I've got things running.
I was VERY pleasantly surprised that you can print figures exported in OBJ format directly from Poser or DAZ Studio. I'd read a lot about image preparation, closing holes, thickening walls, removing eyebrows etc, but none of that turned out to be the case. It even accepted DAZ's grafted on foreskin and the genital add on in both programs without further post work. I DID have to scale both images up by 10,000% in 3DSMax, but I could achieved that by simply setting the scaling factor during export from DAZ and Poser.
My first larger print was this 6 inch (15CM) print of Laocoon and his sons, created from someone else's scans of a scaled model of the Vatican original. I was shocked at the amount of support material added by the slicing software in order to print overhanging parts. I removed the bulk of it with needle nose pliers, but I can see that I'm going to need a few hours with a wood carving chisel and craft file if I want to get this model looking good.
The original model was not all that good, and it looks worse in this photo than it really is because it's zoomed in and harshly lit. Still not satisfactory. Laocoon's face is a fairly good representation of the detail level of the original.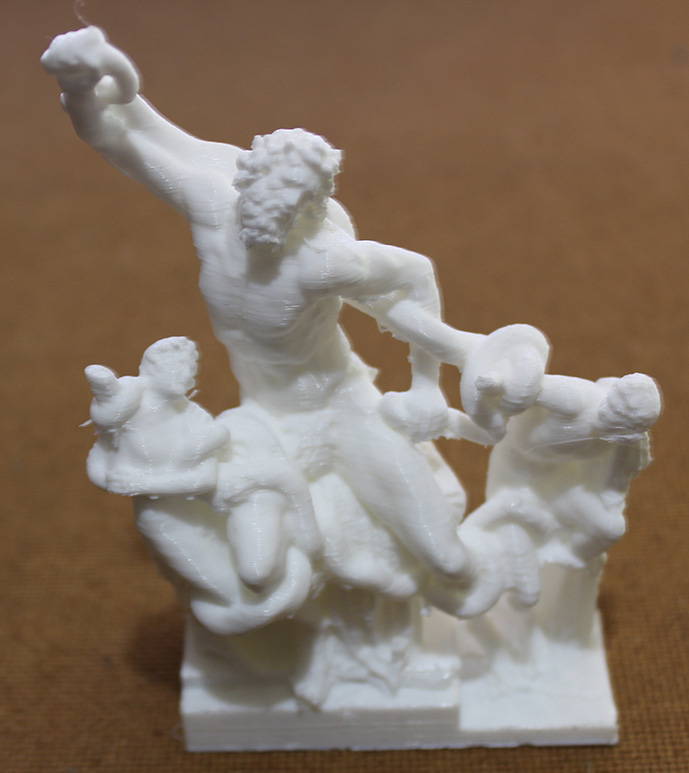 ---
---